Home Inspection Boston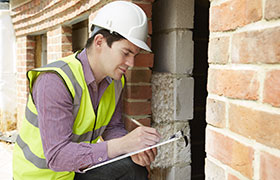 In the process of purchasing a home? The most essential step before you buy is to have the home inspected by trusted, professional home inspectors. A home inspection can tell you what areas of the home are problematic or might become problematic, and the inspection report can help you reach a decision about whether or not to buy the house. We can help with your home inspection in the Boston area, and our house and property inspectors are some of the best in the business.
When it comes to buying a home, there are so many variables to consider. And, as experts in home inspection we will make an honest effort to shed light on problems by interpreting the signs and clues we see in our visual inspection. We can assure you that we will make a conscientious and thorough effort to discover the major deficiencies that may significantly affect the value of your future home or property.
Allow our detail-oriented home inspector to take a close and careful look at the home. From there, you will be able to make an educated and informed decision about the house and property you intend to buy.
Just give us a call to get on our home inspection schedule!
Our Home Inspection Services
A.I. Home Inspection has been serving Massachusetts clients since 1991. We are home inspectors specializing in the craft of home inspection and building inspection and our home inspection service has helped thousands of home buyers with the inspection process. We are a customer driven company with a strong desire to serve our customers by proving the best possible inspection experience possible.
From the home's foundation up to the roof and everything in between, an inspector from our home inspection service will do a detailed and thorough inspection of the house inside and out. Some of the areas we cover during a home inspection include:
Roofs
Floors
Stairs
Walls & Ceilings
Doors
Windows
Appliances
Fireplaces & Wood Burning Stove Chimneys
Smoke Detectors
Aluminum Wiring
Central Heating System
Air Conditioning Compressor
Water Heaters
And, these are just some of the many areas we can cover during a home inspection.
Whatever reason you are hiring us for a home inspection, we have got you covered! Call our home inspection service and we can tell you more about home inspections and all that you can expect. We can't tell you whether or not to buy a home, but the detailed report we provide will help you make an informed decision.
Contact Us about Home Inspection
Do you want more information about home inspection in Boston? Call us at A.I. Home Inspection at 617-477-3427 or Contact Us to learn more.